Ezarri's JointPoint® system guarantees the longevity of your pool tile installation. No more messing with paper or mesh-backed tiles.
Discover the innovative new paneling system designed by Ezarri.
BENEFITS OF EZARRI'S JOINTPOINT® SYSTEM
This exclusive advanced technology was designed to make the installation process of your glass mosaic tiles a breeze.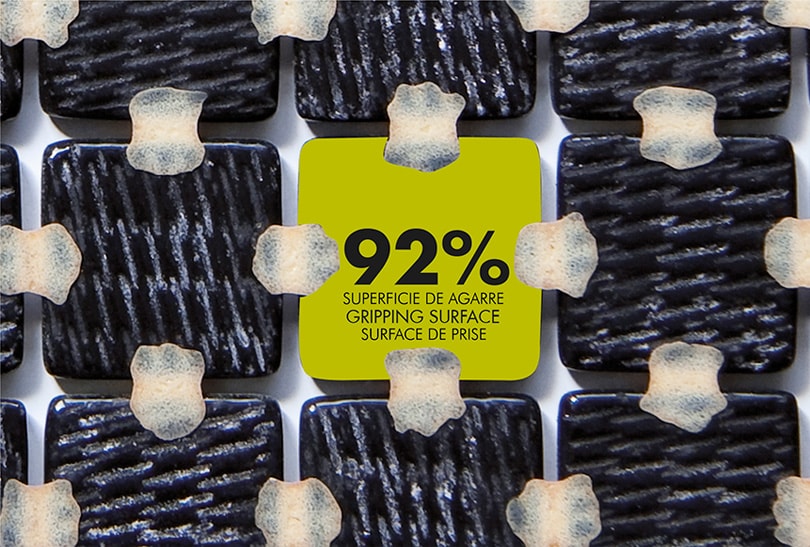 MAXIMUM GRIP SURFACE
92% of the mosaic's surface is available to receive adhesive. That means a much bigger surface is actually in contact with the adhesive and creates a stronger bond with the pool surface.
EASY INSTALLATION – 25% TIME-SAVINGS
Compared with the old paper or mesh-backed tiles, JointPoint will save you a ton of time on your installation. If you are not familiar with installing paper-faced mosaics, know that it is incredibly time-consuming.
The paper mosaics come in sheets glued to a piece of paper that create spaces between the small squares. Once the installer presses the tile against the adhesive, he needs to use a wet sponge to remove the paper and glue.
During this tedious process of removing the paper before the adhesive hardens, the installer needs to use a sharp tool to adjust the spacing between each individual mosaic tile. The squares usually move while removing the paper, making this a never-ending battle to achieve straight lines. A very time-consuming process that results in the poor alignment of your glass mosaics.
EXCELLENT RESULTS
Thanks to the ease of installation and the visual control available for tile placement you will achieve excellent end results. You are not 100% reliant on your installer; now you can count on our smart design and superior technology to achieve perfection.
NOT AFFECTED BY MOISTURE
Does not expand or contract like mesh or paper-based paneling systems.
EXCLUSIVE JOINPOINT® ADHESIVE FORMULA
JointPoint's exclusive adhesive formula provides the perfect combination of malleability and stiffness. It is flexible and easy to cut. Installers all over Canada and the United States are benefiting from this market innovation.
PRECISE SPACING BETWEEN MOSAICS